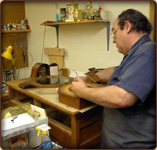 Charlie has over 40 years woodworking experience, extensively with hand and period tools. He has instructed antique furniture restoration, identification and appreciation courses and cabinetmaking courses for several years (20) for The City of Edmonton Community Services Dept and Edmonton Public Schools.
He has had owned and operated his own antique furniture and clock restoration business, The Old Woodworks, for over 25 years and written articles on antique furniture, antique furniture restoration, and architectural element restoration for two national (Canadian) magazines.
He is a member of several national and international trade and like groups whose aim is to enhance the appreciation of the restorer's craft in working with antique furniture and clocks. He has restored antique furniture for private collectors, government organizations and commercial enterprises.
Charlie has been a demonstrator of 19th Century woodworking techniques and tool use, and built pieces on public display at the civic historical park. He is a featured speaker on the topic of antique furniture for many groups in Edmonton.